From the Team that brought you the first IoT of Healthcare Solutions.
Enabling new smart Health Technology that is better connected, light, wearable, and eventually disappearable.
Throughout the development of our digital health platform, the Life365 team has created a unique IP portfolio that provides benefit for industries beyond healthcare.
Life365 has significant granted patents and pending applications in the area of light, economic, efficient and intelligent Wearables, Patches and Sensors. These are extremely beneficial in connecting patients and providers beyond traditional points of care, touching large populations of under engaged members, and gaining insights from cost effective data across a broader population of consumers in order to drive analytics and AI systems in a wide range of market sectors.
A Look into our Toolbox of Solutions
LifeConnect Band
The LifeConnect Band is a different kind of wearable – we call it a "Careable". The band has been designed with Remote Care and Patient Engagement in mind to provide more insightful data beyond just "steps" and "beats per minute". We have embedded this wearable with a combination of sensors and multiple wireless radios to effectively help keep individuals connected to their care providers, in a light - but engaging manner. Collecting behavioral and physical data and driven by AI at a fraction of the cost of expensive smart watches.
LifeOS™: Lean Operating System
Development of the LifeConnect Band led to the creation of LifeOS – a Lean Operating System that highly optimizes very small processors without Memory Management Units (MMU). This allows for wearable devices, sensors and patches to perform a variety of functions minimal battery life – reducing size and cost. LifeOS is perfect for applications such as monitoring patient health remotely, consumer preferences and behaviors, and configuring / updating electronic devices. The LifeOS is designed for Low Resource processors.
Life365™ Patent Portfolio
In development of the LifeConnect Wearable and LifeOS Lean Operating System, Life365 has secured auxiliary patents regarding cloud connectivity for the next generation of wearable and implantable, sensors, patches, and other devices. Our six patents issued (with 11 pending) support the ways this type of technology not only connects to the cloud, but also the way solutions are configured, and data is analyzed – in particular, based on the users data. The patents are a Family of Omnibus Patents that can be split-up and grown.
Key Differentiators that Provide a Leading Edge
Cloud Connected & AI Driven
The LifeConnect™ Band is driven by Our Personalyze™ Machine Learning / AI system that takes insights gathered from a variety of data points to drive ongoing solution alignment / better user engagement.
Lean OS Saves Size, Power & Cost
Our Life OS™ economically connects smaller, lighter – even disposable solutions – to provide the biggest bang for the buck across a broad array of connected solutions in wide range of industries.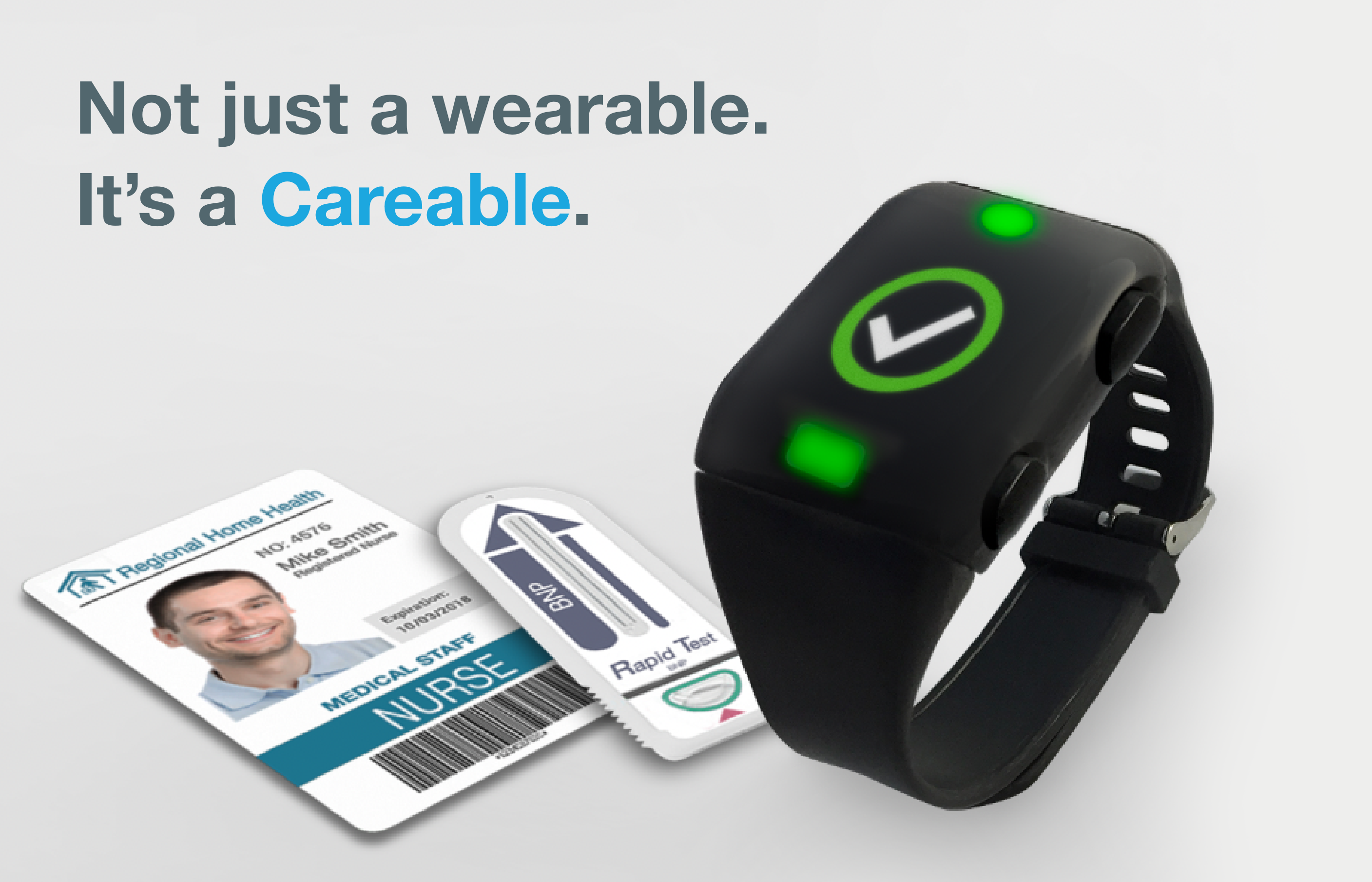 Watch the LifeConnect Demo.
Check out a demonstration of the LifeConnect "Careable". Watch a prototype communicate to Rapid Diagnostics with a Near-Field (NFC) technology, sending the data to the cloud, from a disposable rapid diagnostic test strip. Also see the same tech used to record time and attendance for clinical and non-clinical employee servicesd. LifeConnect's NFC can also be used to pair OEM Medical devices, sensors and patches to the band via bluetooth.
LifeConnect Products and Partners
Good Things Come in Small Packages
Wearables are almost becoming Disappearables! The next generation of Remote Patient Monitoring needs to be small, cost-effective, cloud connected, have a long battery life and driven by Artificial Intelligence. Meet the AffirmXH a non-invasive continuous monitoring biosensor and a new member in our line of partners and sensors that is targeted towards detecting signs of infection, as well as fertility and infant care. With applications in Assisted Living, Skilled Nursing, Community Based Care, Discharge Surveillance and more. The AffirmXH has a 6 month battery life, with Skin Temperature, Heart Rate and HRV. Stand alone or combined with the LifeConnect Band, this becomes a very powerful tool for helping with Hospital avoidance with connected AI driven monitoring.
Life365 | Recognized Innovators with a Proven Track Record